Terumo Launches New 'Terumo Medical Care Solutions' Brand


Terumo Launches New Brand 'Terumo Medical Care Solutions' as a Promise to Provide Quality Time for Better Care
TOKYO, JAPAN – April 1, 2022 – Terumo Corporation (TSE: 4543) will be renaming the "General Hospital Company" to its new name "Medical Care Solutions Company" effective from April 1, 2022. Concurrently, the Medical Care Solutions Company will launch its new brand "Terumo Medical Care Solutions (TMCS)" and restructure its organization, in order to achieve continued growth and work towards Terumo's 5-Year Growth Strategy (GS26).
The landscape of healthcare today is facing a paradigm shift. The point of care is not limited to in-hospital treatments but has expanded to in-home care. There are increased needs for a more personalized treatment, as well as improving hospital management efficiency and safety.
The brand promise of Terumo Medical Care Solutions, "Quality time for better care," embodies the values and the wide scope of solutions the Medical Care Solutions Company provides today. Rooted in Terumo's 100-year history of starting as a thermometer manufacturer, the Medical Care Solutions Company has deep expertise in providing a variety of products and services that contribute to solving the needs of healthcare providers and patients. Some products being: infusion systems such as syringes and transfusion pumps, vital sign management solutions, as well as products for peritoneal dialysis. Additionally, the Medical Care Solutions Company will expand its business to provide extensive diabetes treatment solutions and deepen partnerships with pharmaceutical companies by offering drug delivery technologies that the Company has built up over the years.
Hikaru Samejima, President of Medical Care Solutions Company comments, "We envision a future to be a group of professionals that support a more patient-centered solution and offer end-to-end care to hospitals. Ultimately, we promise to provide 'quality time for better care' to everyone involved in healthcare".
 
About Medical Care Solutions Company
Company name: Medical Care Solutions
Company brand name: Terumo Medical Care Solutions (Abbreviation: TMCS)
Brand promise: Quality time for better care

Structure:
The company consist of 3 divisions: Hospital Care Solutions, Life Care Solutions, and Pharmaceutical Solutions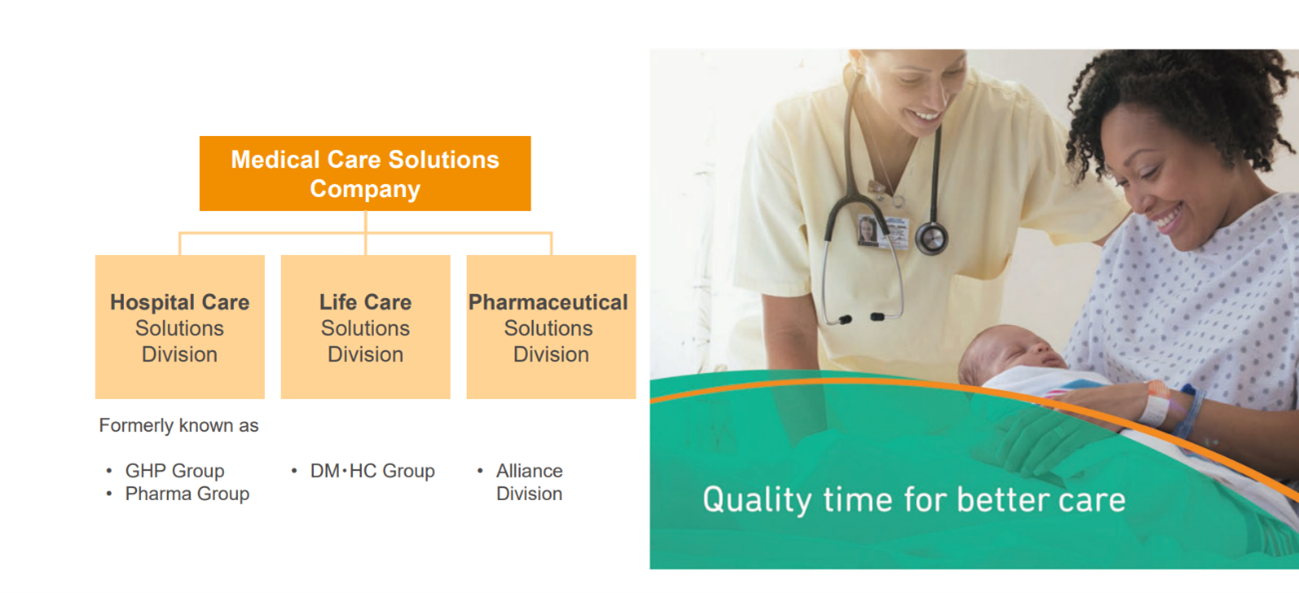 For more information on the story behind the new brand please see:
About Terumo
Terumo (TSE:4543) is a global leader in medical technology and has been committed to "Contributing to Society through Healthcare" for 100 years. Based in Tokyo and operating globally, Terumo employs more than 25,000 associates worldwide to provide innovative medical solutions in more than 160 countries and regions. The company started as a Japanese thermometer manufacturer, and has been supporting healthcare ever since. Now, its extensive business portfolio ranges from vascular intervention and cardio-surgical solutions, blood transfusion and cell therapy technology, to medical products essential for daily clinical practice such as transfusion systems, diabetes care, and peritoneal dialysis treatments. Terumo will further strive to be of value to patients, medical professionals, and society at large.